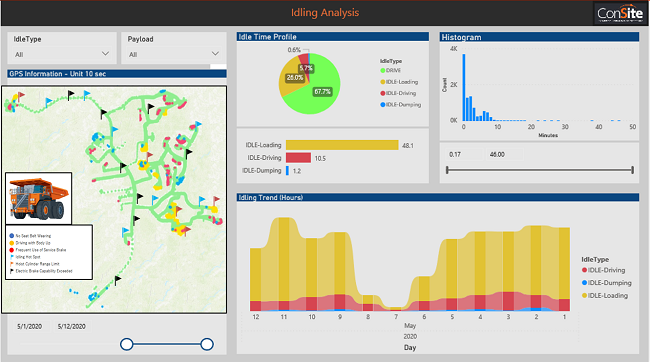 Hitachi Construction Machinery Co Ltd and its consolidated subsidiary, Wenco International Mining Systems Ltd (Wenco) jointly developed 'ConSite® Mine', which helps resolve problems at mine sites by remotely monitoring mining machines on 24/7 basis through the use of IoT and AI based analysis of equipment operations data. The company has developed this technology to help customers and its dealers predict costly maintenance issues before they occur, such as the occurrence of cracks in and excavator boom or arm by utilizing machine learning and applied analysis technologies. Currently, Hitachi Construction Machinery Group is piloting the technology in Australia, Zambia and Indonesia. 'ConSite® Mine' will be further modified based on customer feedback before wider commercial release in 2021.
ConSite® Mine will enable the service technician supporting the customer to analyze asset health information in real time using the online dashboard. The technician can pre-order parts and schedule planned maintenance, avoiding the costs and delays of unplanned downtime from failed equipment. It can also improve overall productivity and safety, by monitoring conditions associated with operator behavior, equipment location and speed, fuel consumption and other data for each equipment and operator, providing real time and historical information which contributes to safe operation and productivity improvement.
Wenco technology and 'ConSite' are registered 'Lumada' which is a collective name for advanced digital solutions, services, and technologies of the Hitachi Group. Wenco provides the IoT digital platform and software technology by which large-volume data are collected and displayed on a customized dashboard. Hitachi leverages its accumulated knowledge, through "ConSite®," on data analyses, information processing technology and applied analysis technology for structural parts of excavators and haul trucks.
For more information: www.tatahitachi.co.in