Control technology and electric drive company, KEB Automation AG, offers a practical implementation of its products in the wind sector especially when the trend is clearly towards ever larger, more powerful wind turbines with high performance. This is closely linked to the repowering of existing plants and the expansion of onshore/offshore wind farms. Furthermore, robustness, as well as long maintenance periods, plays an important role as turbines are subject to different environmental conditions (cold / very warm) and because with high vibration in the nacelle, the drives and brakes must withstand everything.
New development for large wind turbines
The company's new COMBIVERT 23P6 pitch inverter is designed for turbines around ten megawatts and more. The pitch drives are also joined for aligning the turbine in the wind direction by yaw drives, the so-called wind tracking. The system is augmented by the potential use of the company's own brakes and motors. The KEB spring-applied brakes COMBISTOP are built in an optimized version for use in wind turbines that enables the universal assembly (offshore, nearshore, offshore) as well as variable mount or installation on synchronous or asynchronous motors.
"The pitch drives are a central safety component of the wind turbine. In the event of a power failure, a storm, or a fault, they must ensure that the blades reach a safe position - the so-called vane position," explained Ludger Brohl, Product Manager, KEB Automation.
Webcast on KEB products for high output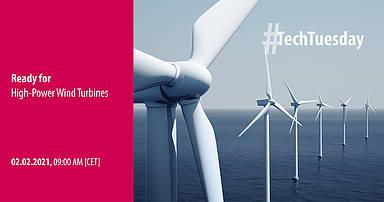 In 2020, 90 percent of the power generation plants were built on renewable energies, 10 percent on gas and coal energies, focusing China and the USA. A webcast under the title "Ready for High-Power Wind-Turbines", is scheduled on February 2, 2021, 1:30-1:50 PM IST, which will show why high power in particular suits KEB products: Wind turbines must operate safely and stably and meet the highest quality requirements. It will be presented by Sebastian Eicke, Application Engineer (Wind Energy), KEB Automation, and his team, to show which possibilities customers gain with KEB - from frequency inverters to brakes.
"By 2025, electricity from renewable energies will be the main source of energy. It will end the more than 50-year dominance of coal. We are actively shaping this change with our customers," assured Eicke.
For registration: https://register.gotowebinar.com/register/5312787820225374733