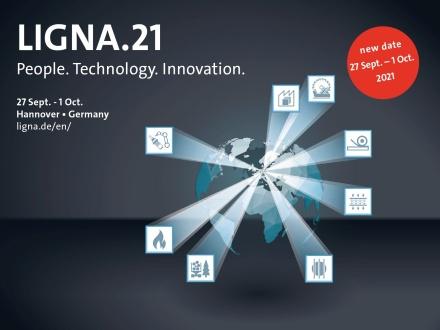 LIGNA.21, the woodworking and wood processing industries leading trade show preparations are in full swing, despite the challenges posed by the Covid-19 pandemic. The event scheduled for Sept 27 - Oct 1, 2021, is looking at a positive registration level seven month prior to the start and enjoys a high level of commitment from the industry.
A comprehensive safety and hygiene concept will apply to the presence in the halls and on the exhibition grounds, which will comply with the regulations in force and will be coordinated with the relevant authorities, as the companies are looking forward to coming together again at LIGNA in Hannover. Among other things, wide aisles, compulsory wearing of masks on the whole premises and registration of each visitor / exhibitor will ensure maximum safety for all participants on the grounds.
The event has also added new virtual participation options to its offering for exhibitors with stand space which will allow the companies to present themselves both in the halls and on the internet through its LIGNA.digital platform. It also enables the companies that are unable to exhibit in Hannover due to possible international travel constraints, to network with all market players as well as journalists from all over the world. The additional digital visibility will make it possible for exhibitors to expand their reach and interact with existing and new business partners.
Companies can choose between three digital packages booked according to sizes in the S, M and L formats, including exhibitor presentations, various dialogue functions, live streaming, or videos in the LIGNA product media library. The Digital Package S is included free of charge in the range of services for exhibitors with stand space in Hannover. The additional LIGNA digital packages also allow visitors who cannot be on site to participate virtually and experience the woodworking innovations at the event.
Stating it to be the right decision to move the event to a new later date amidst the ongoing crisis, as well as garnering positive response with around 900 companies to participate and show their on-site presence in the fair, Christian Pfeiffer, Global Director LIGNA & Woodworking Shows - Deutsche Messe, Hannover, added, "Visitors can already look forward to September and the numerous innovations. There will be plenty to experience and discover, especially with regards to the three focus topics of woodworking transformation, prefab building processes and green material processing."
For more information: www.ligna.de