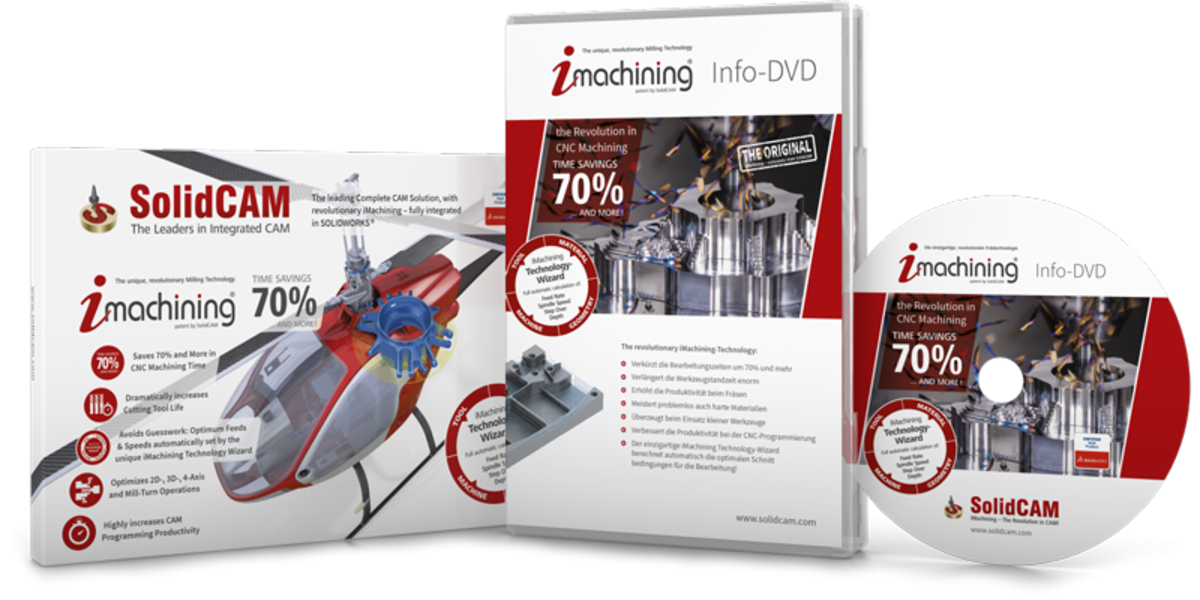 SolidCAM is the leading Integrated CAM software which runs directly inside SOLIDWORKS and Autodesk Inventor, with seamless integration and full tool path associativity. With the single-window integration, all machining operations can be defined and verified without leaving the parametric CAD assembly environment you are used to.
Advantages of Using SolidCAM in SOLIDWORKS
Works right inside your existing CAD: Seamless integration in SOLIDWORKS.
Full Associativity: Design changes initiate automatic tool path updates.
Eliminates import/export challenges: Saves large amount of time and frustration.
Gets you up to speed fastest: Extremely short learning curve because you are already familiar with SolidCAM's interface since it runs right inside SOLIDWORKS.
Get the full picture: SolidCAM works in the CAD assembly mode to graphically show Fixtures, Tooling & Vices in simulations.
Complete CAM Solution
SolidCAM provides a powerful, easy-to-use, complete, integrated CAD/CAM solution that supports the complete range of major manufacturing applications, including iMachining 2D, iMachining 3D, 2.5D Milling, High Speed Surface milling, 3D Milling/High-Speed Machining, Multi-sided Indexial 4/5 axes Milling, Simultaneous 5 axes Milling, Turning, Mill-Turn and Solid Probe.


Patented iMachining
Its revolutionary, patented iMachining technology saves 70% in CNC machining time and more, while drastically extending tool life. The iMachining Technology Wizard provides a powerful partner for automatically determining feeds and speeds and other machining parameters. iMachining provides unbelievable savings and increased efficiency for your CNC milling operations, translating into profits and success.
Leveraging the Most
SolidCAM is the perfect solution for present or future multi-tasking machining needs, with the ultimate in programming flexibility and configurability. One can program multi-turret and multi-spindle operations with full turret synchronization and watch SolidCAM's simulation of the material being machined in multiple stages, transferring from spindle to spindle without user intervention - stock is inserted at one end, complex finished parts come out the other. It provides powerful programming tools that are easy-to-learn and use, covering the full range of 4/5-Axis Simultaneous Mill Turn machines. It completely supports Swiss-Type Mill-Turn Machines including multi-channel synchronization.
SolidCAM easily handles tail stocks, steady rest, mutiple spindles, rotary and linear turrets, along with multiple rotary and linear axes. In this high-collision potential environment, the programming of these machines is made simple and safe by utilizing SolidCAM's turning and milling operations right inside your CAD assembly.
For more information: www.solidcam.com